Founded in 1952, our company was know as Empire Metal Spray Welding & Machine Shop. It was literally built by
See "1952, The Beginning"one very dedicated and enterprising young man from the ground up, block-by-block, along the South Platte River located just to the south of Denver in Sheridan , Colorado.
From humble beginnings Edward Sroczynski moved from Wisconsin to Denver in 1951. By the following year he was laying concrete floors and cement blocks, all the while, working and raising a young family. Within the year, he had finished the building, moved in with some used equipment, and began a forty year career in machining, welding, and thermal spray coatings.
As for any new company at the beginning, business proved to be difficult and demanding . Progress was meager at best, but with dogged determination and perseverance the foundation for the future was laid with valuable experience learned and equipment acquired. The subsequent 50's and early 60's saw modest growth and the future looked hopeful. Then came a natural event that no one could have foreseen.
"The Great Denver Flood of 1965" changed everything for Ed and Empire. This disaster and the resulting aftermath left the business and building completely demolished with all the equipment and tooling buried beneath twelve feet of silt and mud. Thankfully no one from the company was injured even though many in the community lost their lives. Everything looked so bleak at this point in time and no one would have blamed Ed for throwing in the towel. There was no looking back at what could have been. With his family, friends, employees and associates firmly by his side, the building of the new Empire Metal Spray started that very next day. Hours, days, weeks, and months were spent in digging through the ruble and mud, cleaning and salvaging what little could be saved, and moving it all to new facilities in Englewood, away from the river. It was a truly gratifying time to reaffirm our beliefs in our fellow man. Customers remained understanding, steadfast, and loyal during this whole rebuilding process and within a few short months the business was up and running again.
The 70's and early 80's brought with it new business and growth. Thermal sprayed coatings became a focus and specialty for the company. Our expertise and new high energy plasma coating equipment enabled us to offer our customers improved coating quality and additional services. The production area was increased with new construction and the purchase of an adjoining building that followed shortly thereafter.
By 1984, Empire Metal Spray, Inc.® was bursting at its seams. We next purchased a large modern facility directly next door. More new equipment was added in the machining and coating departments with production again expanding. This included new HVOF spay coating technology that enabled us to provide superior carbide coatings.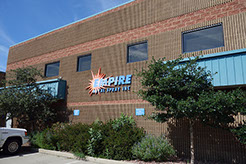 In 1997-98, we broke ground and finished construction on the most modern engineered thermal spray coating facility in the county. We put into operation new multiple Plasma, HVOF, Flame, Electric Arc, and Spray & Fuse coating systems, all located within acoustically enclosed clean rooms supported by new and improved abrasive blasting systems and a compete masking department for part preparation. Our facilities were further improved with the addition of ultra efficient air management and dust collection systems. As a result, coating and product quality was insured and a clean, safe working environment established.
Today, our facilities support one of the most modern and complete arrays of equipment, tooling, coating processes, and material in the industry. Our machining, grinding, and polishing capabilities enable us to complete products finished to demanding specifications and tolerances within the time limits set by our customers needs and delivery schedules.
With all we have accomplished with the acquisition of facilities and equipment that support us today, our most important asset continues to be our knowledgeable and skilled employees and how they are effectively empowered . Three generations and sixty-one years of dedicated service and commitment by our owners, managers, support, and production people are your guarantee that Empire Metal Spray, Inc.® will always be available to serve you.
Michael E. Sroczynski
President